Replacement Dock Rollers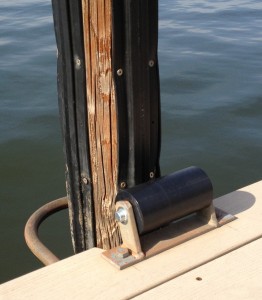 • Replace your worn or weathered dock rollers before they fail and damage your dock or pilings.
• Outstanding wear and weather resistance and often exceed original manufacture specifications.
• These are an excellent upgrade over worn out urethane rollers.
• Urethane rollers are only designed for boat trailers and don't stand to dock wear over time.
• Compatible with Piling-Guard strips.
• Each Roller includes two Cap Nuts.
First, determine the outer diameter of your roller. Next, determine your axle diameter. The diameter is generally 1/2″ or 5/8″. The two dimensions are very close, so please use a ruler to verify which size is needed. Lastly, measure the overall measurement.
We make the inner diameter slightly larger and the length slightly smaller, so the rollers turn more freely.
| Outer | Axle | Bracket | Manufacturers |
| --- | --- | --- | --- |
| Diameter | Diameter | Width | Direct Pricing |
| 2″ | 17/32″ | 4 1/2″ | $10.50 |
| 2.5″ | 1/2″ | 3″ | $9.99 |
| 2.5″ | 1/2″ | 4″ | $10.99 |
| 2.5″ | 1/2″ | 5″ | $11.99 |
| 2.5″ | 1/2″ | 6″ | $13.99 |
| 3″ | 1/2″ | 3″ | $11.99 |
| 3″ | 1/2″ | 4″ | $13.99 |
| 3″ | 1/2″ | 5″ | $15.99 |
| 3″ | 1/2″ | 6″ | $17.99 |
| 3″ | 5/8″ | 3″ | $11.99 |
| 3″ | 5/8″ | 4″ | $13.99 |
| 3″ | 5/8″ | 5″ | $15.99 |
| 3″ | 5/8″ | 6″ | $17.99 |
| 3″ | 5/8″ | 7″ | $19.99 |