Cone Shaped Round Piling Caps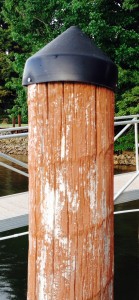 • Available in round, square & rectangular to fit those shaped pilings.
• Cone shaped piling caps protect the exposed top of your piling from weather and birds landing atop your piling.
• Can be used with salt or fresh water and look much neater than a weathered or jagged piling top.
• We sell both black and white color, but black is the more weather resistant.
• To determine size, carefully measure the distance around the top of your piling with a string. Use a tape measure to determine the length of string. This is the circumference. Divide circumference by Pi (3.14159) to determine the diameter. Piling diameters vary, so be sure to measure every piling you are wanting to cap.
• Installation is easy. Simply place the proper sized cap on the top of your piling and secure with a nail or screw.
• You can aggregate your total number of caps to get the best discount.
Call 704-860-7789 for additional details or to place an order.
Round Cone Shaped Caps: Black or White Color
Cap

Diameter

Cap Inside

Circumference

Cap

Color

Single Cap

Pricing

4 Cap

Pricing (ea)

100 Cap

Pricing (ea)

4″
12 9/16″
Black
$9.50
$9.25
$8.90
4″
12 9/16″
White
$10.10
$9.75
$9.25
5.0″
15 11/16″
Black
$9.50
$9.25
$8.90
5.0″
15 11/16″
White
$10.15
$9.75
$9.25
5.5″
17 1/4″
Black
$9.50
$9.25
$8.90
5.5″
17 1/4″
White
$10.15
$9.75
$9.25
6.0″
18 7/8″
Black
$7.25
$6.38
$5.75
6.0″
18 7/8″
White
$10.15
$9.75
$6.99
6.5″
20 7/16″
Black
$7.25
$6.38
$5.55
6.5″
20 7/16″
White
$7.75
$7.50
$6.25
7″
22″
Black
$7.50
$6.60
$5.65
7″
22″
White
$8.00
$7.75
$6.25
7.5″
23 9/16″
Black
$7.50
$6.60
$5.65
7.5″
23 9/16″
White
$8.00
$7.75
$6.25
8″
25 1/8″
Black
$7.75
$6.82
$5.95
8″
25 1/8″
White
$8.25
$7.75
$6.49
8.5″
26 11/16″
Black
$7.75
$6.82
$5.95
8.5″
26 11/16″
White
$8.25
$7.75
$6.49
9″
28 1/4″
Black
$8.00
$7.04
$6.35
9″
28 1/4″
White
$8.25
$7.75
$6.49
9.5″
29 7/8″
Black
$8.00
$7.04
$6.35
9.5″
29 7/8″
White
$8.25
$7.75
$6.49
10″
31 7/16″
Black
$8.25
$7.26
$6.49
10″
31 7/16″
White
$8.75
$8.25
$6.99
10.5″
33″
Black
$8.25
$7.26
$6.49
10.5″
33″
White
$8.75
$8.25
$6.99
11″
34 9/16″
Black
$8.50
$7.48
$6.49
11″
34 9/16″
White
$9.00
$8.50
$7.25
11.5″
36 1/8″
Black
$8.50
$7.48
$6.49
11.5″
36 1/8″
White
$9.00
$8.50
$7.25
12″
37 11/16″
Black
$8.75
$7.70
$7.39
12″
37 11/16″
White
$9.25
$8.99
$7.99
12.5″
39 1/4″
Black
$8.75
$7.70
$7.39
12.5″
39 1/4″
White
$9.25
$8.99
$7.99
13″
40 13/16″
Black
$31.10
$30.18
$28.35
13″
40 13/16″
White
$32.62
$30.73
$28.85
13.5″
42 7/16″
Black
$36.26
$35.12
$32.84
13.5″
42 7/16″
White
$38.15
$35.81
$33.46
14″
44″
Black
$37.32
$36.13
$33.76
14″
44″
White
$39.08
$36.66
$34.24
14.5″
45 9/16″
Black
$39.25
$37.98
$35.44
14.5″
45 9/16″
White
$41.05
$38.47
$35.88
15″
47 1/8″
Black
$40.96
$39.61
$36.92
15″
47 1/8″
White
$42.67
$39.95
$37.22
15.5″
48 5/8″
Black
$42.13
$40.73
$37.94
15.5″
48 5/8″
White
$44.01
$41.18
$38.35