Call 704-860-7728 for a free Piling-Guard sample!
Open every day from 9am till 8pm!!!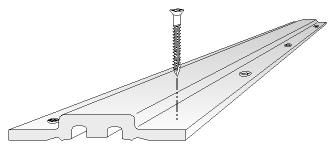 Dock pilings can cost more than $500 each to replace. If your dock has a roof or requires hurricane pilings, they can cost as much as $1,500 each to replace. Over time, floating dock rings & rollers can wear dock pilings away. Piling-Guard strips are a low cost and easy to install way to protect dock pilings from this expensive damage. They are the only product specifically designed to protect your pilings from wear. Piling-Guards are made from a hi-tech polymer resin that has 8 times the wear resistance of stainless steel. They are also formulated to resist the damaging effects of sun (UV Exposure) and element exposure. The highly wear resistant area of the strip is 1/2″ thick and 1.5″ wide. Simply install them to the wear surfaces of your pilings. Piling-Guards have pre-punched holes approximately every 4″ to make installation a snap, most installers use every other hole when installing Piling-Guards. Overall, piling-Guards are 3 1/2″ wide, 1/2″ thick and approximately 8 foot long. Piling-Guards can be butted together at the ends for applications requiring strips longer than 8 feet. Piling-Guards will also eliminate squeaky noises from docks sliding up & down the pilings. Piling-Guard strips can also be used for slides on jet ski storage ramps and to prevent boats from damaging your pilings.
Carefully read instructions that are posted in the "Installation Instructions" section of this web site.
Piling-Guards can be installed by anyone that is reasonably handy with a cordless screwdriver. This means that home owners, dock builders and most general contractors can install them. We can also help you find a local installer. Be sure to also order our Star Drive Bits & Screws which are compatible with salt & fresh water installations. Our screws will partially engage into the Piling-Guard strips with a simple twist, which eliminates the need for an extra hand. This makes installation easy, even for the "do-it-yourself" installer!!! Our screws also feature a star drive head that won't slip out of the drive bit, unlike Phillips heads.
Click here for Piling-Guard Strip Screws.
Click here for Piling-Guard Video & Photos.
Click here for Piling-Guard Testimonials.
Click here for Piling-Guard Installation Instruction page.
Click here if you have any questions or want to call us.
Piling-Guards are made in USA & patent pending in USA & Canada.
Piling Guards Stock Number: PG8
Pricing is based on the quantity of Piling-Guards per order:
   MSRP (Manufacturer's Suggested Retail Price): $37.99 per strip
4 Piling-Guard strips (for 1 piling) – $27.99 per strip
8 Piling-Guard strips (for 2 pilings) – $24.99 per strip
16 Piling-Guard strips (for 4 pilings) – $21.99 per strip
24 Piling-Guard strips (for 6 pilings) – $19.99 per strip
40 Piling-Guard strips (for 10 pilings) – $18.99 per strip
Please inquire for pricing on quantities larger than 40 strips.
For orders, to ask questions, or request a free sample, call us at: 704-860-7728.

If shipping is required, Piling-Guard.com only charges you the cost of freight. In other words, we do not add extra fees for handling.